What does the best tourism website design look like in 2020? The answer is more about what's below the hood than shiny videos or hand-drawn fonts or 360 video.
The best tourism website design in 2020 uses:
1. Accelerated Mobile Pages
2. Structured Data
Yes, just two things make the best tourism websites in 2020. If these are new terms don't worry—they are new technology built to make your site mobile-first, and mobile-fast. Mobile-fast is a new term we at Bellweather have coined to highlight how important speed is when it comes to the mobile web. More and more, Google and consumers are prioritizing speed just as much as design and content. Read on to find out more.
Some DMO sites we've designed:
nycgo.com
gobreck.com
Why should you listen to us?
We are leaders in destination website design. There is only one DMO website that's won the Webby for Best Travel Website in the past nine years and we designed it. We were recognized by the Webbys again in 2019 for Best Visual Design for our work for GoBreck. On top of that, our website design and strategy lead to huge leaps in traffic and search. NYCgo's visitors increased by 20% since our redesign, and GoBreck's organic traffic has grown by 79% since our overhaul. GoBreck has also won Best Mobile Site by The Web Marketing Association (WMA), and Outstanding Travel Website by the WebAwards. (We love bringing destinations to life on the web.)
Here's what makes the best destination websites hum in 2020:
The Best Tourism Websites Use AMP
First, let's talk about Accelerated Mobile Pages (AMP). AMP is a way to design website pages that strips a webpage down to its most basic form. This is important because:
the most basic webpage = fastest load time
AMP page design uses only the most basic elements of your webpage—the text content, images, captions, and videos. Everything else is removed from the webpage, including custom fonts, animations, fancy boxes, and drop shadows.
AMP = your speediest mobile website, ever.
AMP makes your webpage content load in a fraction of a second in 90% of mobile environments (even on 3G connections.) The faster your page loads, the higher the engagement and lower the bounce rate.
AMP challenge = design limitations
AMP design is bare bones. You may have spent all your time making a flawless, beautiful responsive website, and AMP removes all the work you did for mobile. But we at Bellweather see this challenge as a benefit—AMP puts the focus on content, not design. 
Is your content engaging? Does it connect with your target audiences? We can help you find out. We collaborate directly with our clients and their audiences to uncover information architecture plans that revolve around data and audience-driven insights, not guesswork.
GoBreck's Navigation Structure and Content Audit
GoBreck's Content Structure
The best tourism websites in 2020 use AMP to get content in front of the largest audience with the highest level of engagement. Google rewards AMP with top placement in search results (and some extra design support.) Ever seen those lightning bolts in your search results? That designates an AMP page.
We built the new GoBreck with AMP integration on all of its article and event pages. GoBreck is at the top of its most important mobile searches, and its AMP pages have incredibly high levels of engagement. Get in touch and we'll build AMP pages into your site for you.
In part because of the AMP and Structured Data work we did with GoBreck, organic visits are up 79%.
The Best Tourism Websites Use Structured Data
Second, let's talk about Structured Data.
Google can't figure out the structure and nuances of your website content. It doesn't know that your Oktoberfest celebration is a yearly event, it can't figure out that it lasts for a three-day weekend, and it doesn't know the dates for 2020. It knows you have a webpage called Oktoberfest 2020, but besides finding it (if you've set it up properly for SEO), Google can't tell a visitor anything else.
Google needs your help to figure out your content's meaning. Enter Structured Data. Structured data is code that tells Google the important context for your content: like the dates of your festival, the location, and even that Oktoberfest is a festival.
Once you wrap Structured Data around the relevant information, Google can do amazing things with your content. It can tell a visitor that Oktoberfest is a festival, that it happens yearly, and share its dates. It can share a thumbnail image of the event, show where the event is on a map, and help plan travel directions. It also does something incredible for us SEO nerds: it puts your content at the very top in search results, with an extra bit of design attention too.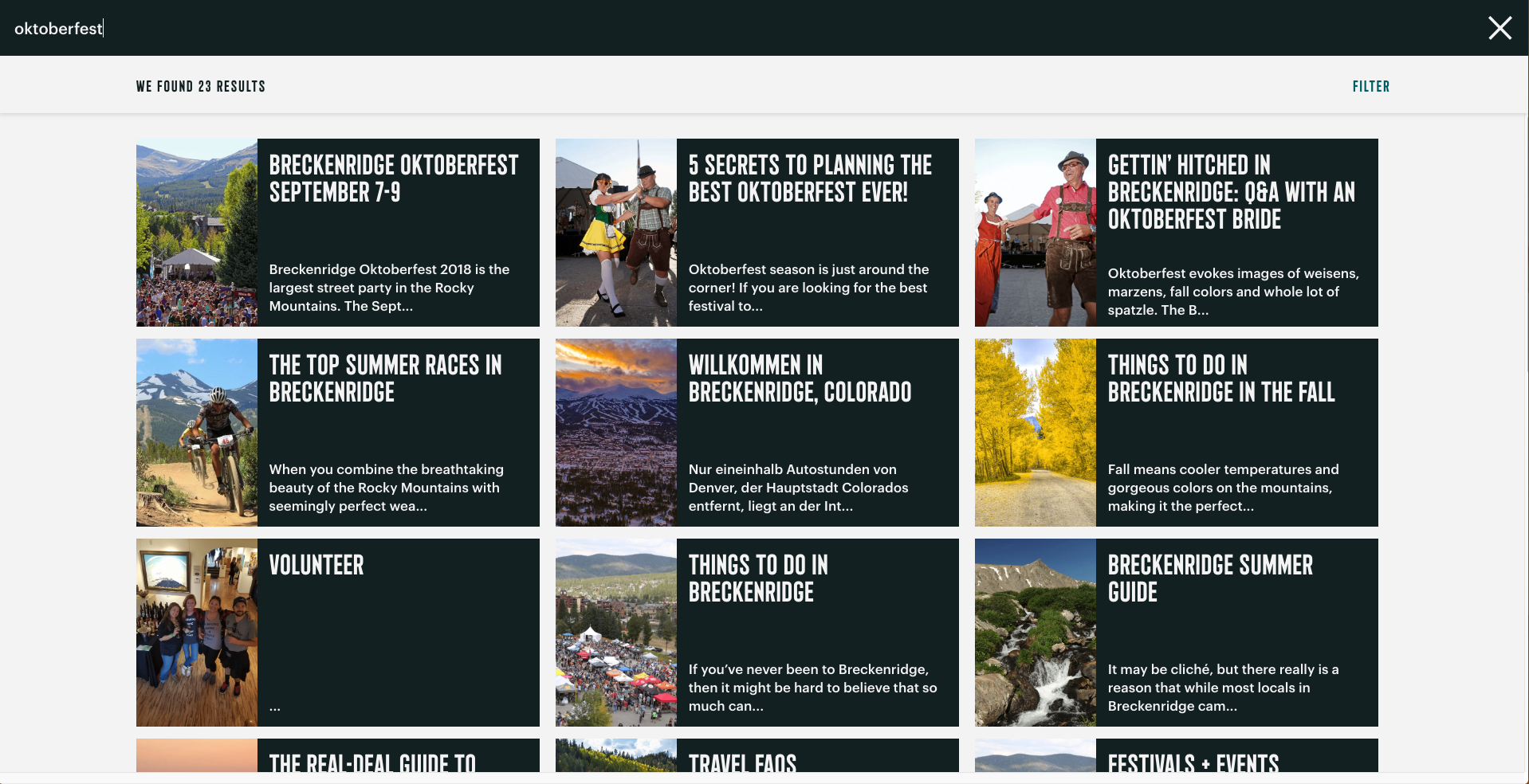 Search results for Oktoberfest on the GoBreck website
We built GoBreck to flawlessly collaborate with Google. We built Structured Data into our site for GoBreck, and the results are beautiful and engaging. (In fact, we share design credit with Google when it comes to Structured Data.) The best tourism website design recognizes that we need to collaborate with Google and other technology partners. Tech integration today means much more than showcasing an Instagram feed on your website.
But what about Chatbots? Or VR?
It's exciting to plan for our future selves, but we believe it's crucial to be a part of the emerging technologies offered by Google search. The best tourism website design is the design that gets your destination in front of the largest audience and broadens your customer base, today. Our opinion: hire the best destination website agency to build you an inspiring website with AMP and Structured Data integration for the biggest audience gains. Be mobile-first and mobile-fast. 
Learn More About Bellweather
Our work is exemplary because our process is different. Here's how.
Bellweather's Process