What do the best tourism websites look like in 2021? The answer is more about what's below the hood than hand-drawn fonts or 360 video.
The best tourism websites in 2021:
1. Load extremely fast—especially on mobile
2. Are built for engagement
3. Utilize structured data
Yes, just three things make the best tourism websites in 2021. Each of these recommendations incorporates new technology built to make your site engaging, mobile-first, and mobile-fast. Mobile-fast is a new term Bellweather has coined to highlight how important speed is when it comes to the mobile web. More and more, Google and consumers are prioritizing speed just as much as design and content. Read on to find out more. Some DMO sites we've designed:
Clockwise from top-left: NYCgo.com, GoBreck.com, Baltimore.org, BrooklynBridgePark.org
Why should you listen to us?
We are leaders in destination website design. There is only one DMO website that's won the Webby for Best Travel Website in the past ten years and we designed it. We were recognized by the Webbys again in 2019 and 2020 for Best Visual Design for our work for GoBreck. On top of that, our website design and strategy lead to huge leaps in traffic and search. NYCgo's visitors increased by 20% since our redesign, and GoBreck's organic traffic has grown by 79% since our overhaul. GoBreck has also won Best Mobile Site by The Web Marketing Association (WMA), and Outstanding Travel Website by the WebAwards. We also led the website relaunches for Brooklyn Bridge Park and Visit Baltimore, which both have had very exciting early results! (As you can tell, we love bringing destinations to life on the web.)" Here's what makes the best destination websites hum in 2021:
The Best Tourism Websites Are Mobile-Fast
First, let's talk about why speed is important. Speed results in higher engagement in the form of low bounce rates. According to Google, bounce rates grow if a site does not load within a second:
Google will also be looking at speed for search result placement in spring 2021. Google has shared that Core Web Vitals will be a determining factor in search rankings in April 2021. One of the elements of Core Web Vitals is what's known as Largest Contentful Paint (LCP)—or the time it takes for your website to render. The best destination websites will be built for speedy LCP (within a second) in 2021 and beyond. To be mobile-fast, the best travel websites need two things working together:
Cutting-edge Development + Super-fast Server = Fastest Load Time
At Bellweather, we build travel websites to load lightning fast on mobile. This means minifying our code and building automatic compression into all of our websites. This work is below the hood, but it leads to our websites loading within a second. We've also made a commitment to working with the fastest hosting partner out there: WP Engine for our WordPress or headless-WordPress clients. WP Engine has been shown in several studies to be the quickest server for WordPress sites, period. Now that the website loads quickly, let's talk about content:
The Best Tourism Websites Are Laser Focused On Engagement
It's really this simple: is your content engaging? Does it connect with your target audiences? Does it answer the questions people are asking in 2021? We can help you find out. We collaborate directly with our clients and their audiences to uncover information architecture plans that revolve around data and audience-driven insights, not guesswork.
GoBreck's Navigation Structure and Content Audit
GoBreck's Content Structure
The best tourism websites in 2021 focus on creating highly engaging content that answers audiences' questions directly. This leads to better search rankings, which leads to getting content in front of the largest audience with the highest level of engagement. Google rewards websites that have low bounce rates with top placement in search results. In part because of the content audit and information architecture improvements we made with GoBreck, organic visits are up 79%.
The Best Tourism Websites Use Structured Data
Finally, let's talk about Structured Data. Google can't figure out the structure and nuances of your website content. It doesn't know that your Oktoberfest celebration is a yearly event, it can't figure out that it lasts for a three-day weekend, and it doesn't know the dates for 2021. It knows you have a webpage called Oktoberfest 2021, but besides finding it (if you've set it up properly for SEO), Google can't tell a visitor anything else. Google needs your help to figure out your content's meaning. Enter Structured Data. Structured data is code that tells Google the important context for your content: like the dates of your festival, the location, and even that Oktoberfest is a festival. Once you wrap Structured Data around the relevant information, Google can do amazing things with your content. It can tell a visitor that Oktoberfest is a festival, that it happens yearly, and share its dates. It can share a thumbnail image of the event, show where the event is on a map, and help plan travel directions. It also does something incredible for us SEO nerds: it puts your content at the very top in search results, with an extra bit of design attention too.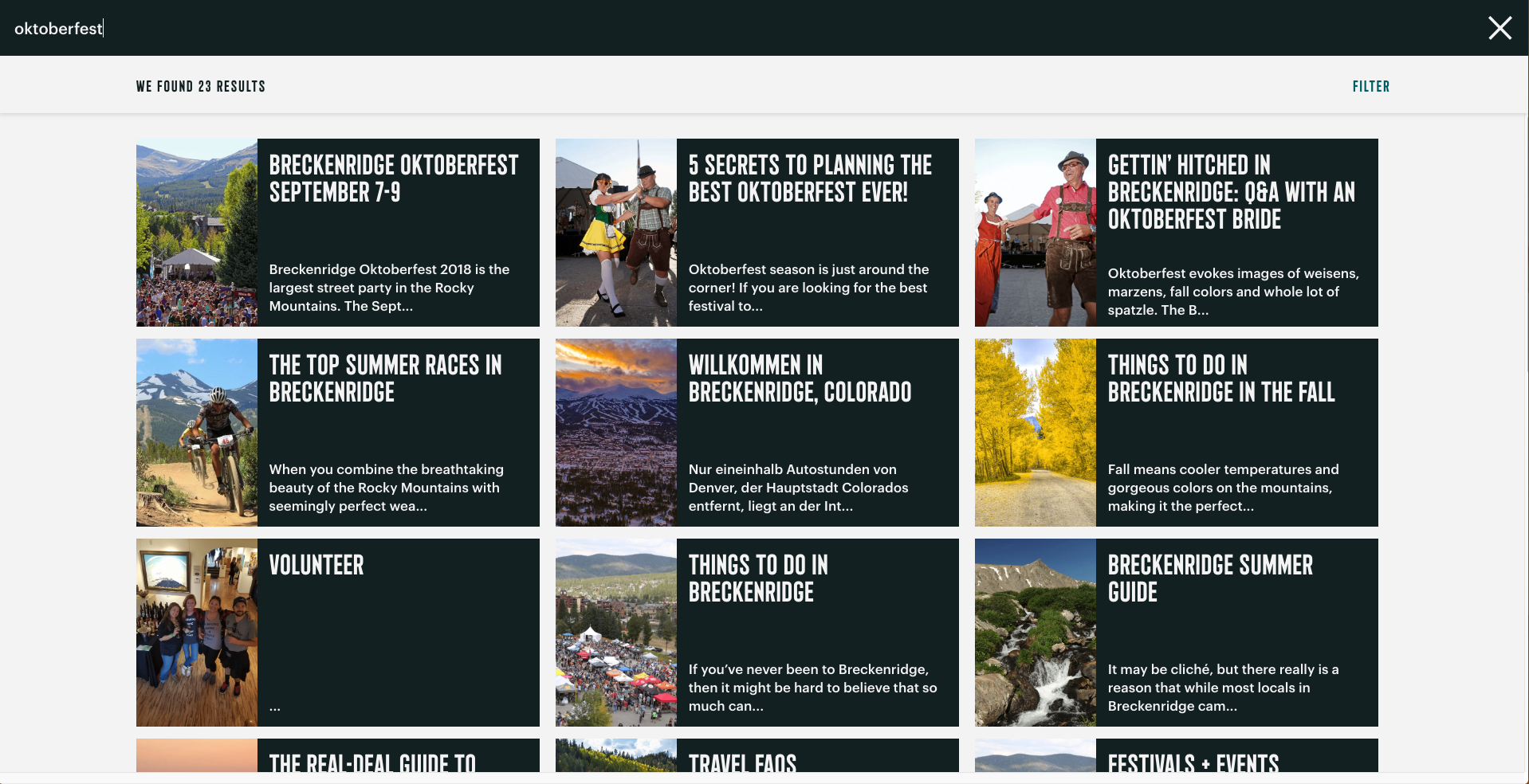 Search results for Oktoberfest on the GoBreck website We built GoBreck to flawlessly collaborate with Google. We built Structured Data into our site for GoBreck, and the results are beautiful and engaging. (In fact, we share design credit with Google when it comes to Structured Data.) The best tourism website design recognizes that we need to collaborate with Google and other technology partners. Tech integration today means much more than showcasing an Instagram feed on your website.
But what about Chatbots? Or VR?
It's exciting to plan for our future selves, but we believe it's crucial to be a part of the emerging technologies offered by Google search. The best tourism website design is the design that gets your destination in front of the largest audience and broadens your customer base, today. Our opinion: hire the best destination website agency to build you an inspiring website that's mobile-fast, highly engaging, with structured data integration for the biggest audience gains. Be mobile-first and mobile-fast.  Get in touch with Bellweather to hear more.